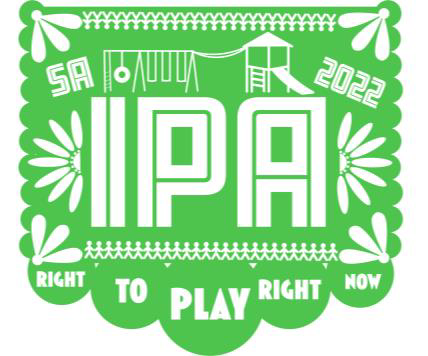 IPA is now seeking presenters for the 2022 Annual Conference in San Antonio, TX, October 6-9, 2022!
Share your wisdom, knowledge, and expertise with all those who advocate for play. To submit your presentation, follow the link below and complete the form.
All submissions are due no later than May 31, 2022.
Presenters will be notified of their selection by June 15, 2022.
Questions? Please contact us here.
About the Right to Play, RIGHT NOW! In-Person Conference
This conference is going to be held in San Antonio, Texas on October 6-9, 2022, and will be a space for unity and inspiration that reflects the audience it serves and the restorative environment needed to ignite play advocacy and action. Yes! This means there will be a rhythm of speakers, presenters, and intentional activities to restore the inner child in all of us as we lean into the ebb and flow of exuberant learning and joyful relaxation. Ahhhhh!
Over these four days, you can look forward to:
Welcome and Classic Conference Day 1 at the University of the Incarnate Word (UIW) and Evening Party at The DoSeum
Classic Conference Day 2 at UIW
San Antonio Tour Talks at various sites and schools
Unconference and Play Day at UIW.
The theme of the conference is Right to Play, RIGHT NOW! Children need the social, physical, mental, and emotional benefits of play now more than ever. So what is happening RIGHT NOW? What are the challenges to play right now? What are the success stories? What is research telling us right now? What can we do together RIGHT NOW to take play to the next level?? Speakers and sessions at this conference will be invited to present on the following themes in an engaging and interactive manner:
Play + Advocacy/ Tools for Change
Nature Play
Research
Playwork
Social Justice / Play Equity- UNCRC
Child-friendly Cities
Play Provision/COVID Play
Play Design
Action Steps for implementation
Improvisation – creative and innovative presentations
Possible Online Options
Given the tumultuous period of unprecedented events we are enduring during this global pandemic, we are giving constant consideration to having online or on-demand options should conditions concerning travel and fellowship not be conducive to in-person events during the time of this conference. Should these options come to light, we will notify presenters and attendees.
Session Formats
Sessions will be between 60 or 90 minutes in length, and in the following formats:
Classic Classroom Conference Indoor (Day 1,2) – At the main conference site in a classroom setting.
Tour talk (Day 3) – Presenting outside at playful locations on our San Antonio tour day: a natural playscape, sculpture park, children's garden, play-based early childhood center.
Improv Scheduling – We will be scheduling sessions in creative ways to make the best use of our people (you!) and places (tour locations!). We may group similarly themed talks together or create panel presentations. We'll work with you to make it as fun and successful as possible!
Audio Visual and Other Equipment
Presenters and speakers will have access to a projector, screen, and internet access for Days 1 & 2. Any additional equipment or materials will need to be provided by the presenter.
Presenter Discount
Presenters can get the IPA USA Membership rate for the conference by joining IPAUSA. You can find membership information at IPAUSA.org
All submissions are due no later than May 31, 2022.
Presenters will be notified of their selection by June 15, 2022.
Questions? Please contact us here.