Who wants to learn about Play just by talking? Not us! We're here to learn about Play by engaging, interacting, and doing! As part of the 2022 IPA USA Annual Conference, we will spend Saturday "off-site", visiting local San Antonio play-based facilities where we will tour, explore, engage, and learn from their experience and environment. Four tour options are available, each visiting two hosts; additionally, transportation, originating from UIW, will be included, as will a box lunch of your choice.
(For those attending, all tours will return to UIW around 5 pm, in time to head on over to the Hoe-Down.) Read more, and choose your tour and lunch when you register!
---
Tour #1 – Hemisfair Park and The Circle School
AM Stop – Hemisfair Park – "Welcome to Hemisfair—it's home, no matter where you're from. With one complete public park and two more on the way, Hemisfair has something for everyone."
More images available on their Instagram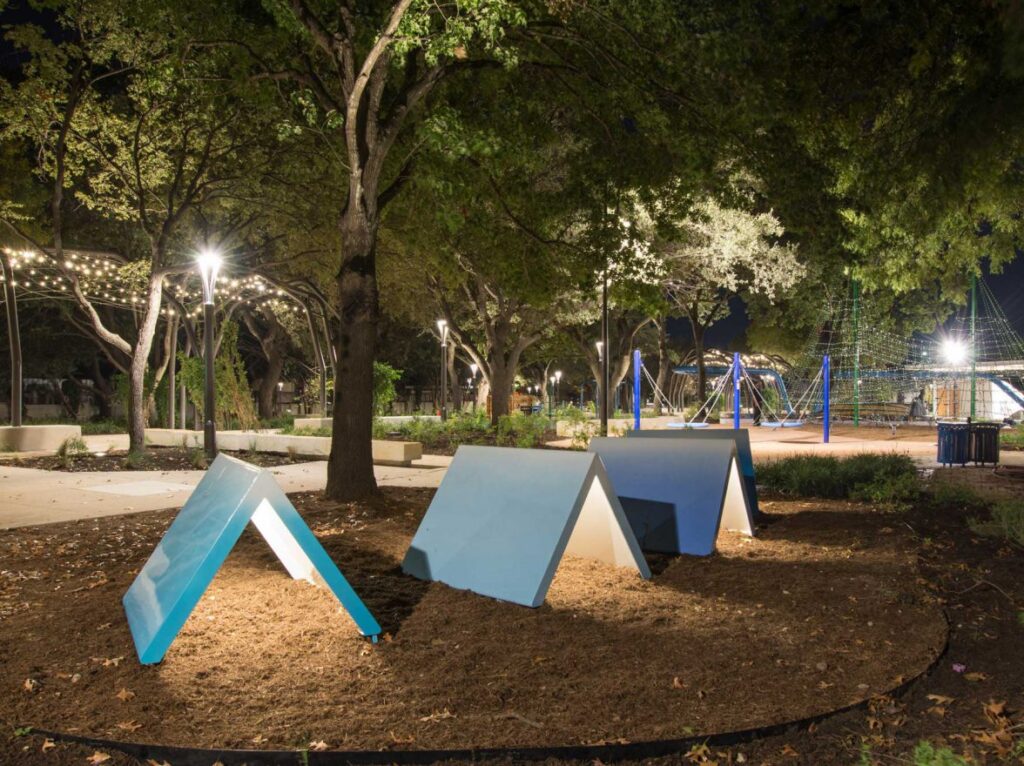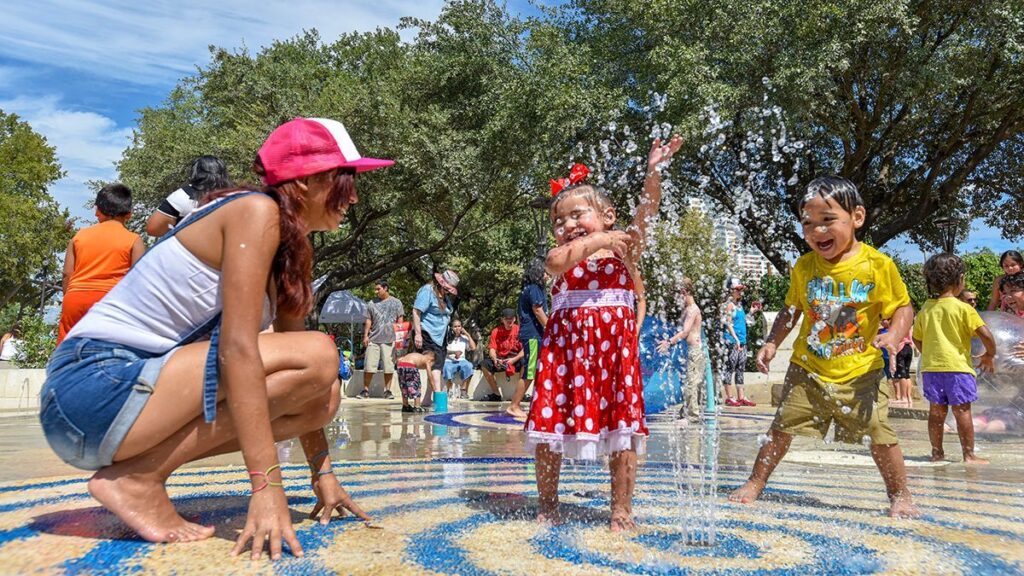 PLAY at Hemisfair Park with Traci Lewand: "PLAY is a series of public art installations in Yanaguana Garden at Hemisfair. A team of six artists was assembled by lead artist Stuart Allen to develop a collection of related, site-responsive artworks throughout the park.
After multiple site visits and meetings off-site, a common thread emerged within the group that centered on the idea of play. Of course, "play" is a multifaceted term and the artists considered the word from many perspectives: from the idea of imaginative children's play, to a dramatic production, to the notion of playing with time. And while children are a primary audience, the installations that makeup PLAY possess a depth of meaning that appeals to a wide age range."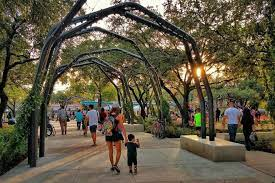 PM Stop – The Circle School
The Circle School is a thriving non-profit community centered around its school with more than 90 students, 8 full-time teachers, and an active Co-op.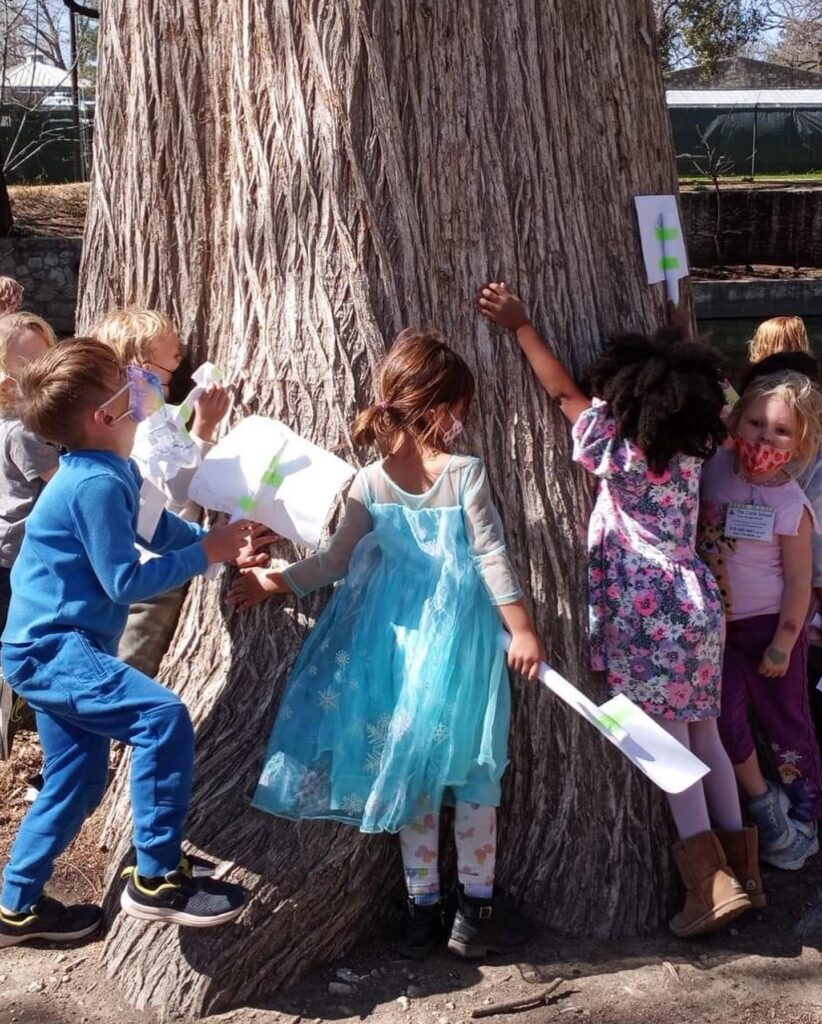 Founded in 1965, we are a PreK 3- 8th grade family-integrated cooperative school combining academic excellence with a unique curriculum oriented around storytelling, bridging the arts and sciences, nature-based education including gardening and sustainability, and respectful conflict resolution that encourages the development of compassion and empathy.
We are internationally designated as an Ashoka Changemaker School in recognition of our cultivation of students with the skills and confidence to change the world for the common good.
The Circle School is committed to the development of the whole child by cultivating the body, mind, heart, and spirit. Special classes such as art, music, PE/yoga, and gardening are just as important as academic core subjects in a whole-child education.

See more on The Circle School Instagram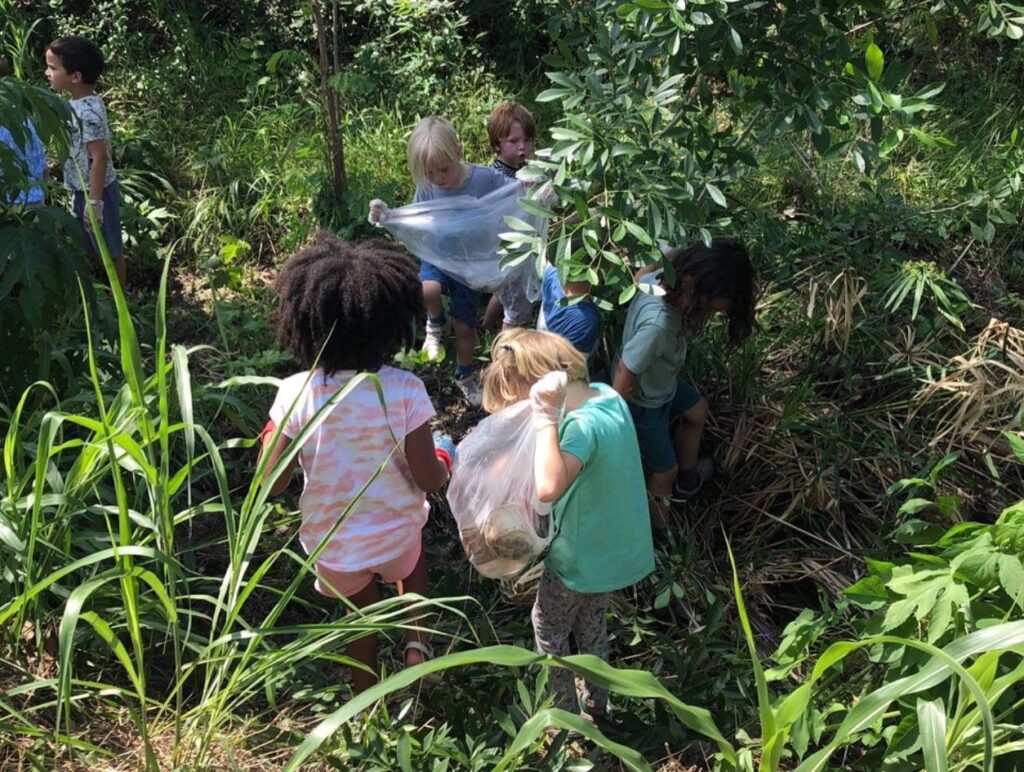 ---
Tour #2 – The Acorn School and Morgan's Wonderland
AM Stop – The Acorn School A School for Young Children was founded by Rich and Kitty Lange in 1980, with the goal of providing the highest quality preschool education for San Antonio's young children.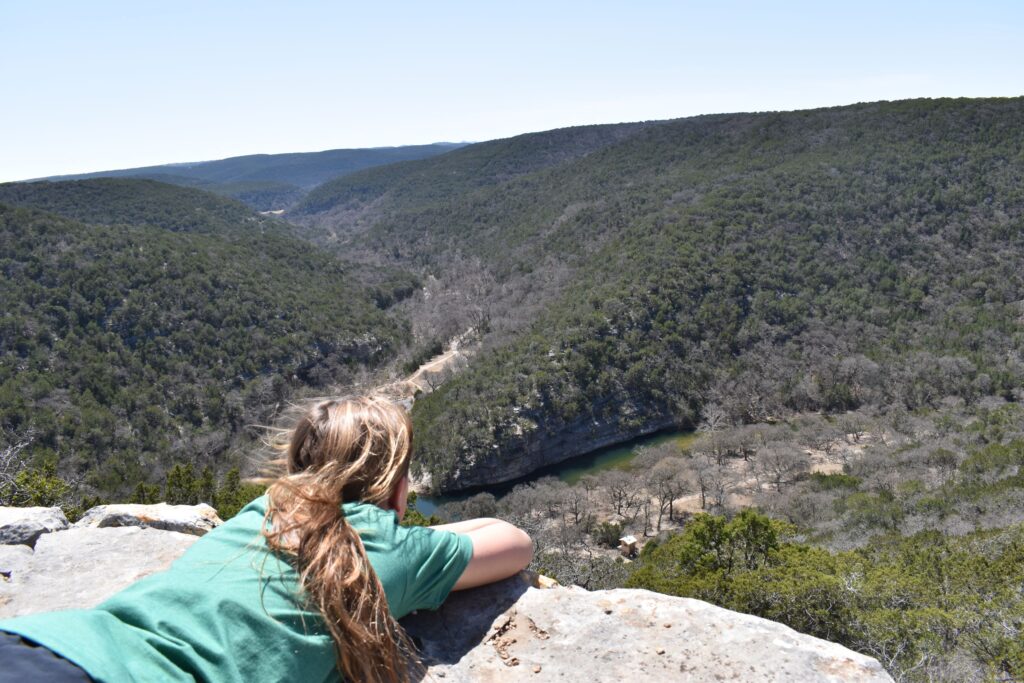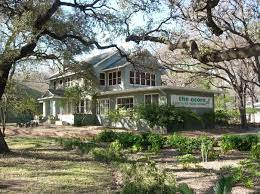 It was quite an undertaking transforming the historical home into colorful, vibrant learning classrooms. From the very first day of opening, the school was ready with classrooms full of great equipment, an adventurous playground, and quality teachers.
PM Stop – Morgan's Wonderland
In 2006, Gordon Hartman observed his daughter, Morgan, wanting to play with other vacationing kids at a hotel swimming pool, but the kids were leery of Morgan and didn't want to interact with her.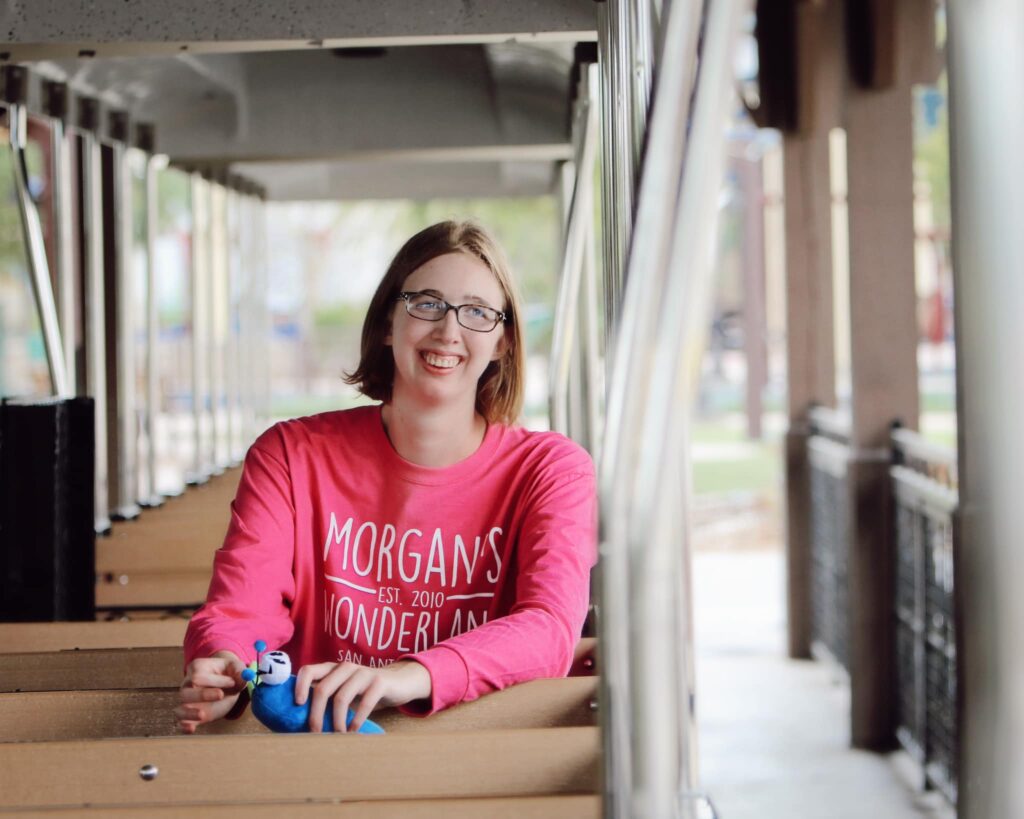 Then and there, Gordon resolved to create opportunities and places where those with and without disabilities can come together for fun and a better understanding of one another. On April 10, 2010, Morgan's Wonderland became the world's first theme park designed with individuals with special needs in mind.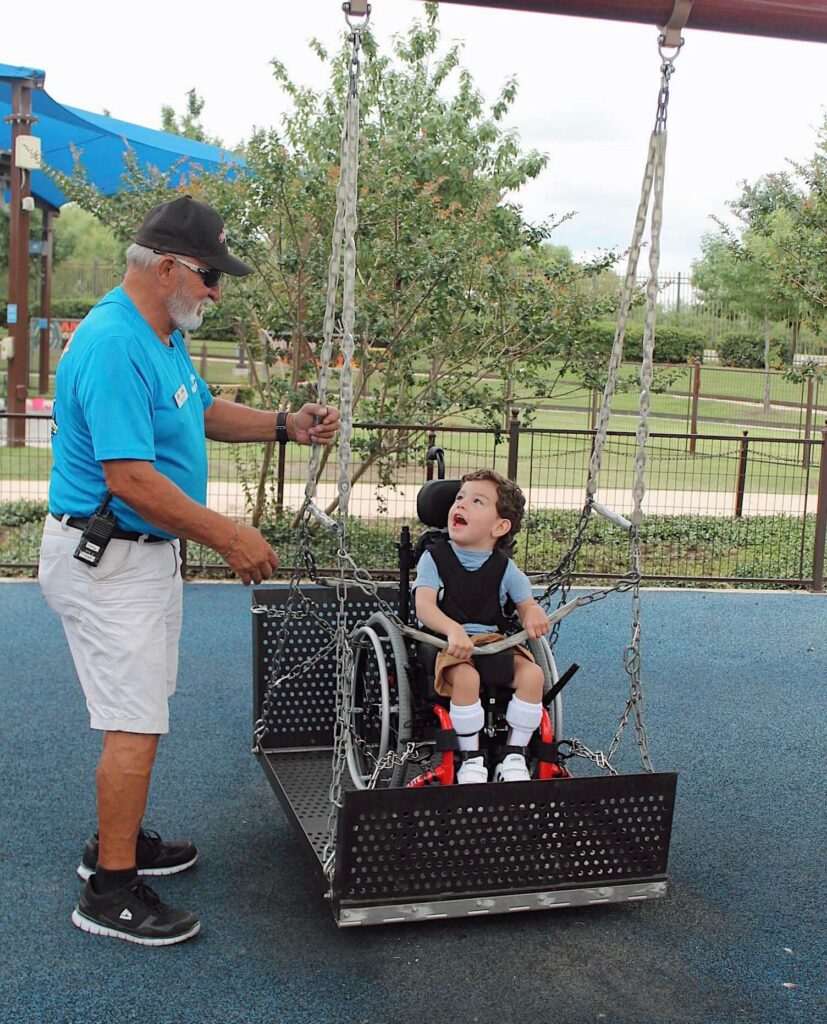 In 2017, the Ultra-Accessible™ theme park opened its expansion, Morgan's Inspiration Island, which was named on the 2018 "World's Greatest Places" list by TIME Magazine.
Guided by its mission of inclusion, the park strives to bring together guests of all ages and all abilities through the power of inclusive play.
---
Tour #3 – Marvelously Made and PreK 4 SA
AM Stop – Marvelously Made – the School for Young Children is a result of the professional passion and authentic respect for children which began brewing in the heart of its founder, Jennifer McCarville, over 26 years ago.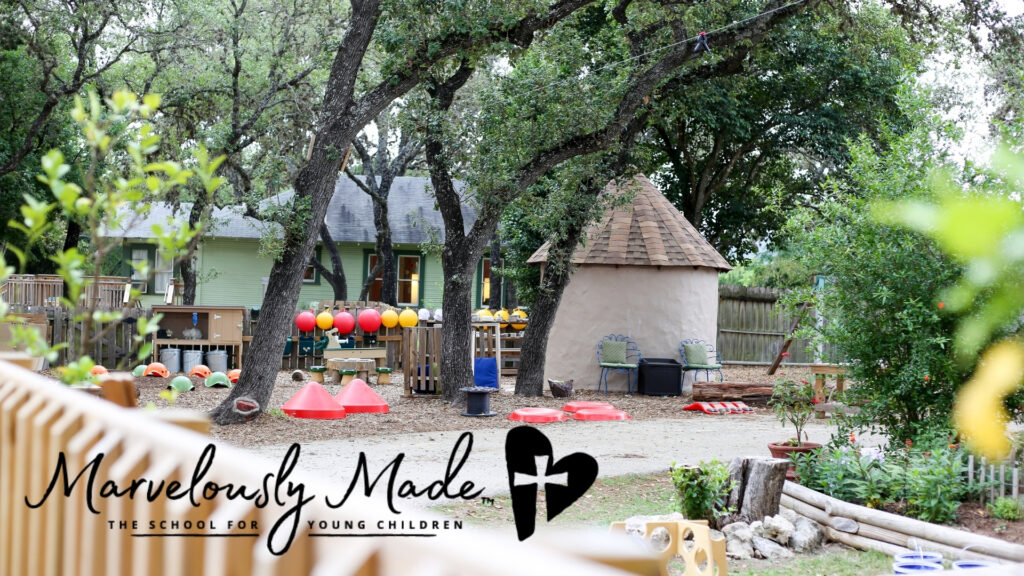 The Marvelously Made Way (approach) values authentic learning and holds strong to a dedication respecting the developmental needs of children with the first consideration being the individual emotional needs of each one.
This is why we offer young children a developmentally appropriate early educational experience while honoring the biological process of human development which has been designed by God.
PM Stop – PreK 4 SA – Empowering San Antonio's Future
Pre-K 4 SA is a comprehensive early childhood initiative aimed at changing the educational and workforce trajectory of San Antonio in one generation. Pre-K 4 SA offers full-day prekindergarten for 4-year-olds living in the City of San Antonio. Pre-K 4 SA is free for qualifying students and also accepts tuition-paying students.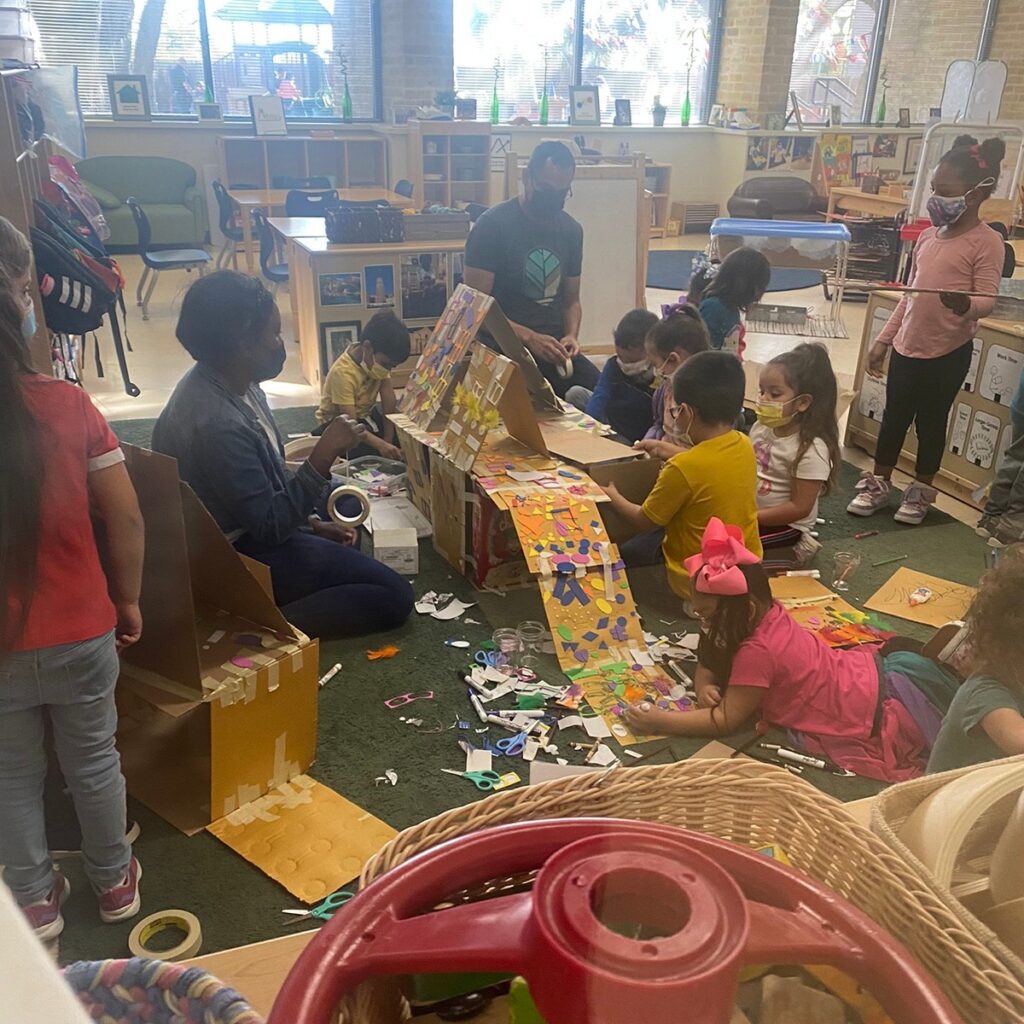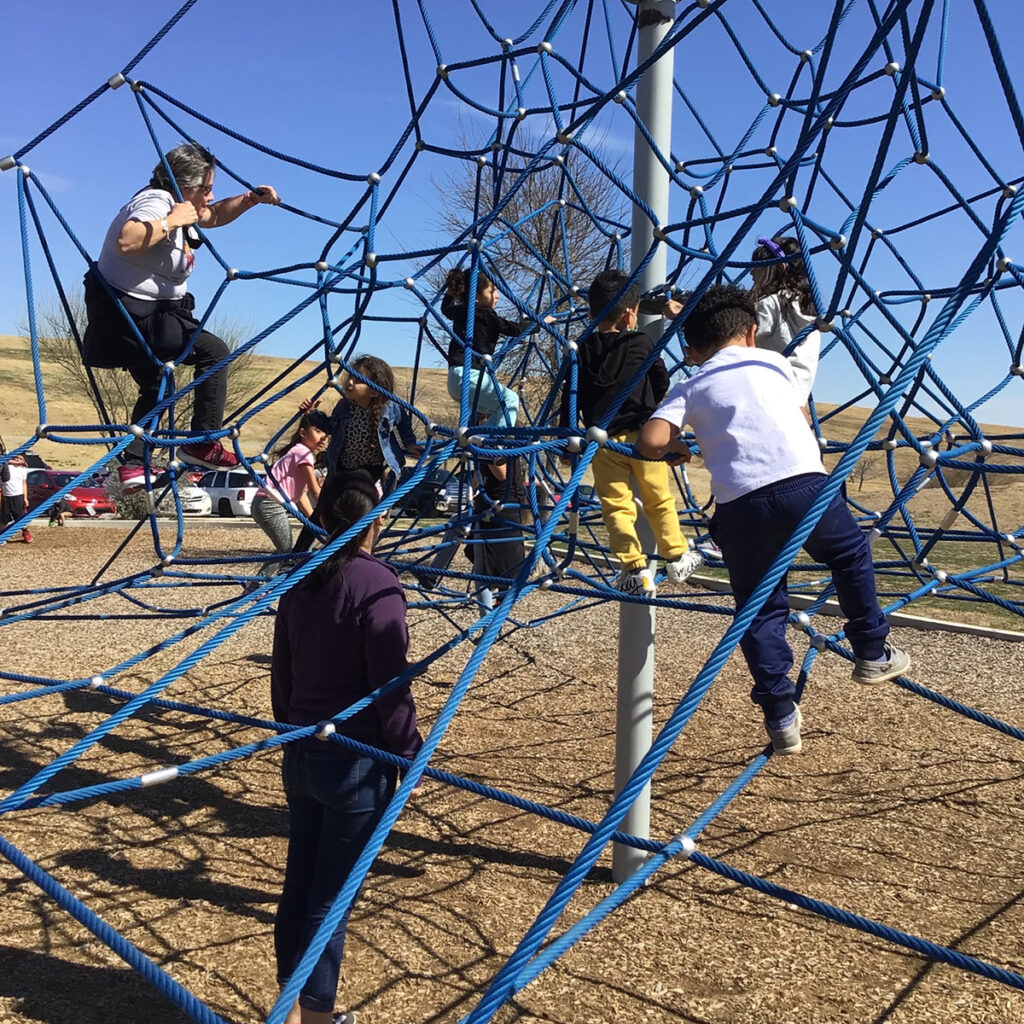 Pre-K 4 SA has four Education Centers located throughout the city. The Pre-K 4 SA Professional Learning program provides prekindergarten through third-grade educators in San Antonio with complimentary continuing education to support best practice instruction to help every child in San Antonio excel. The Pre-K 4 SA Competitive Grants program provides more than $4 million in funding annually to increase the quality and access to early childhood programs throughout San Antonio.
---
Tour #4 – The San Antonio Zoo and Will Smith Zoo School
(Love the zoo? Check out the Beastly Breakfast available Sunday morning!)
AM – The San Antonio Zoo
Ever wondered how animal play can be observed and contributes to their development? Dr. Rachel Walker will discuss animals' play and will share takeaways to bring to our own programs.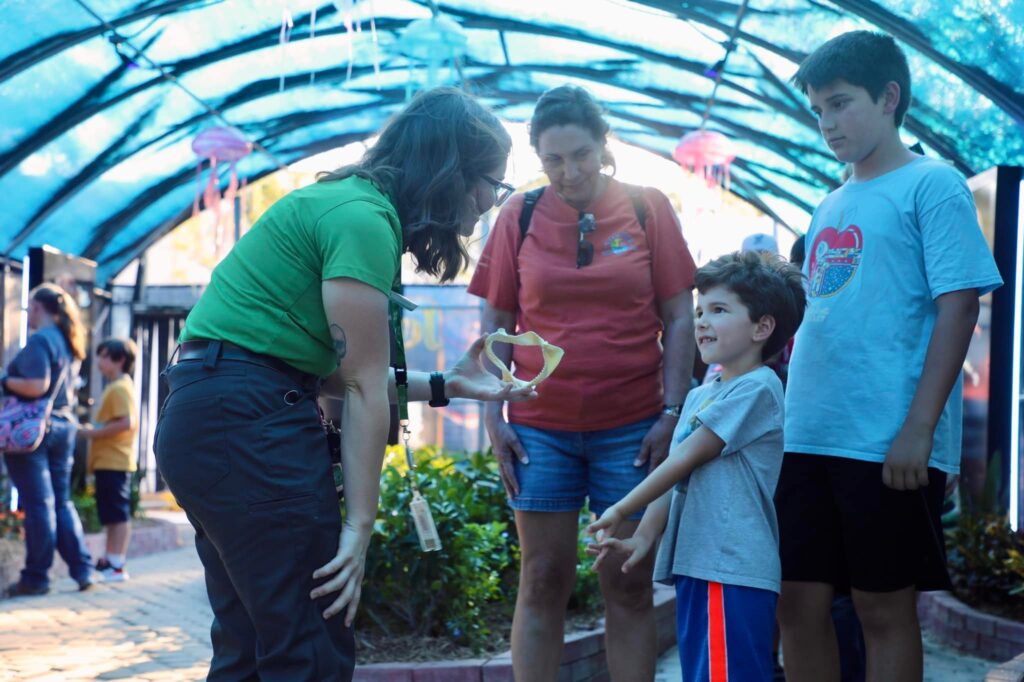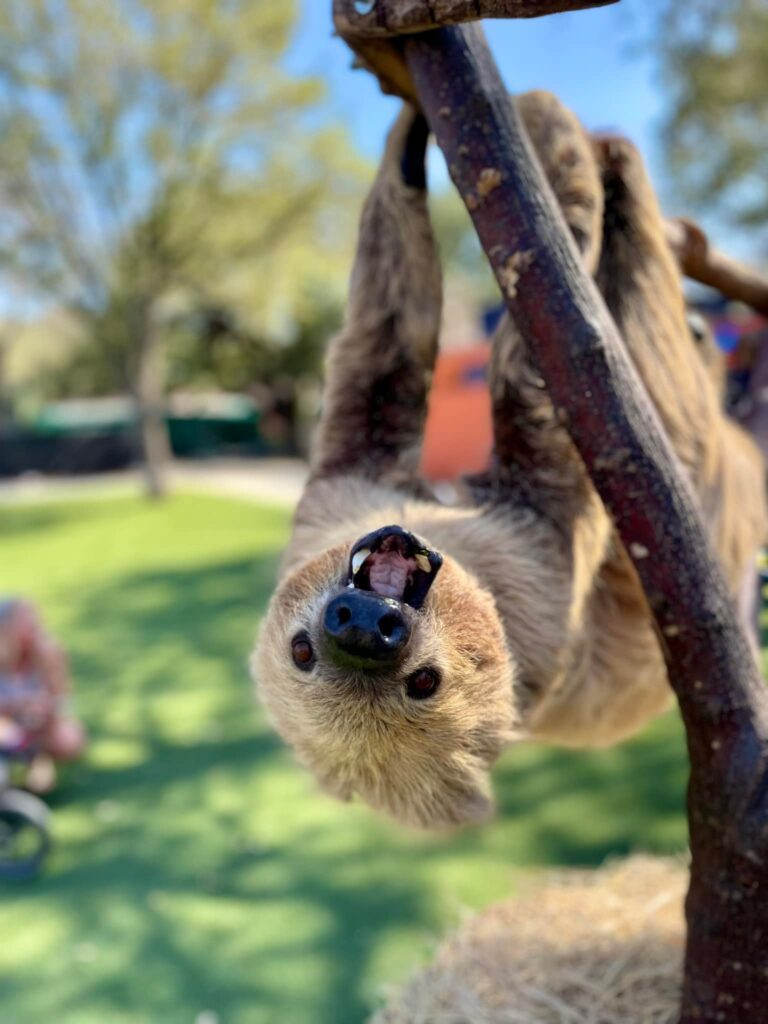 The Day at the San Antonio Zoo will explore and investigate animal play and participants will create enrichment activities and then observe the animals playing with their creations.
Explore the Kronkosky's TinyTot Nature Spot – A premier indoor/outdoor environment, welcoming young children and families to a play-based animal-inclusive experience. And, it's a Rusty Keeler-influenced design!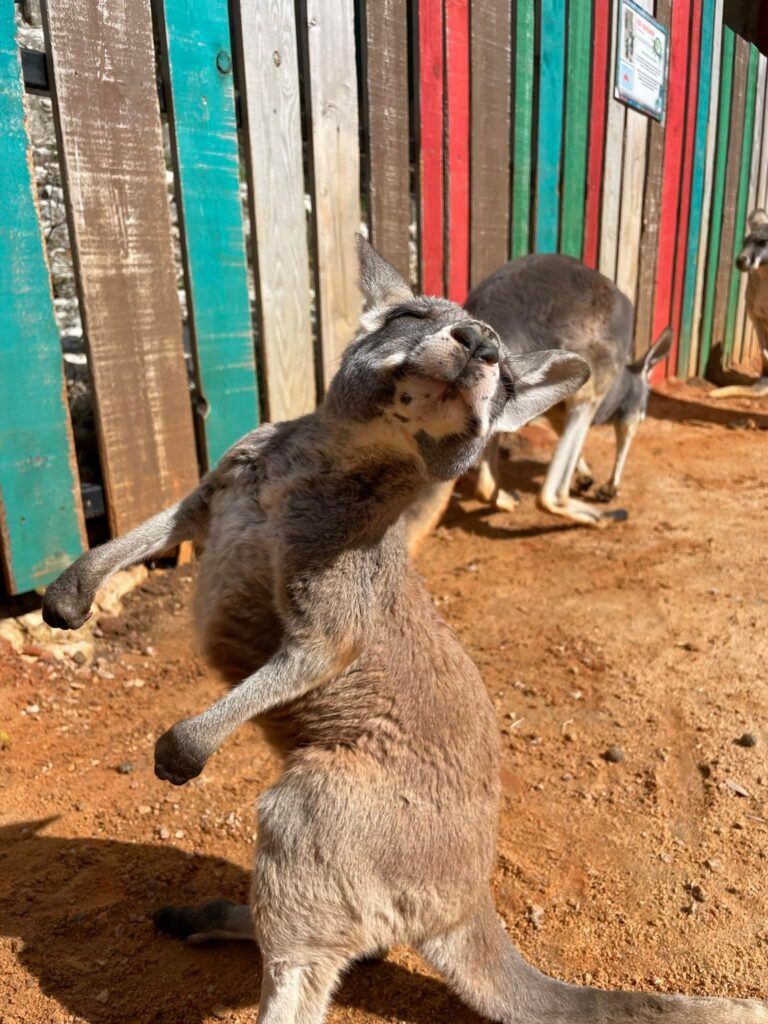 PM – The Will Smith Zoo School
Designed for children 3-5 years, the Will Smith Zoo School is a LEED Platinum award-winning nature-based school.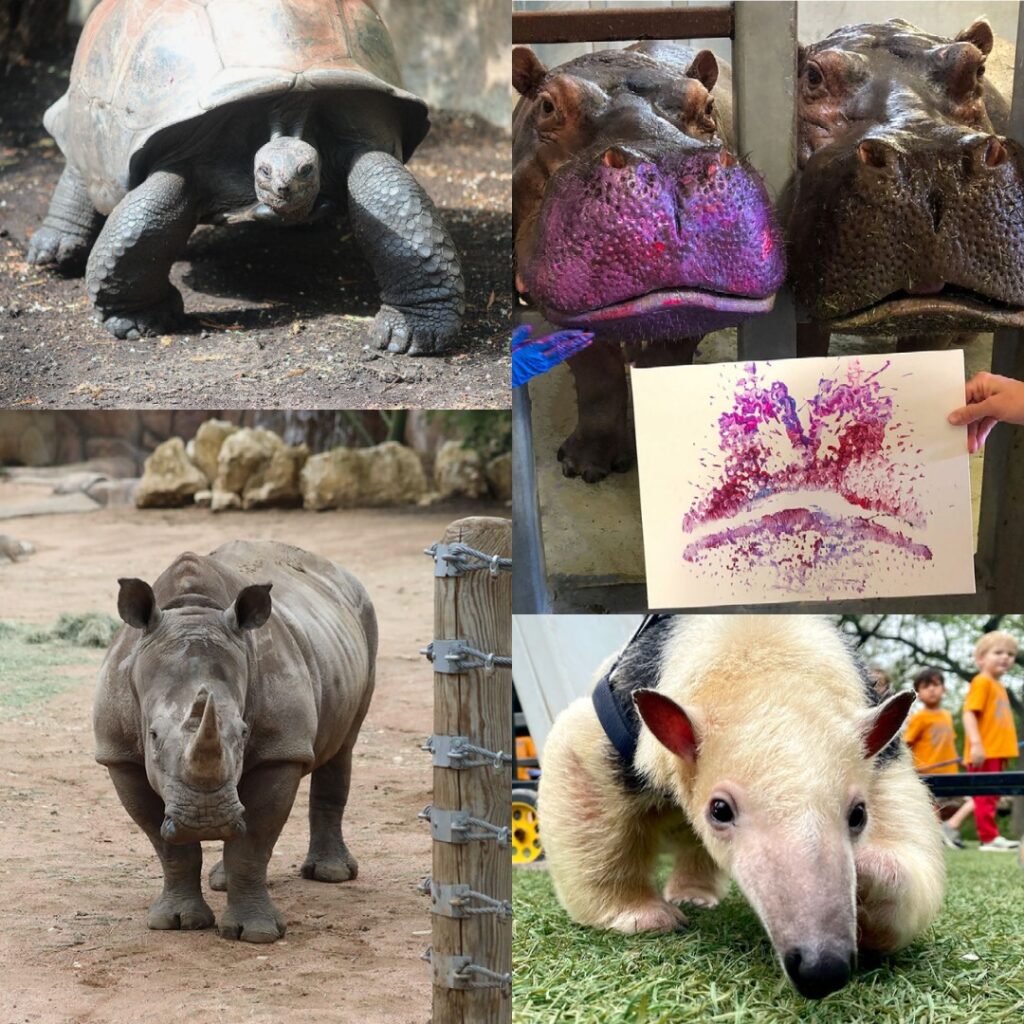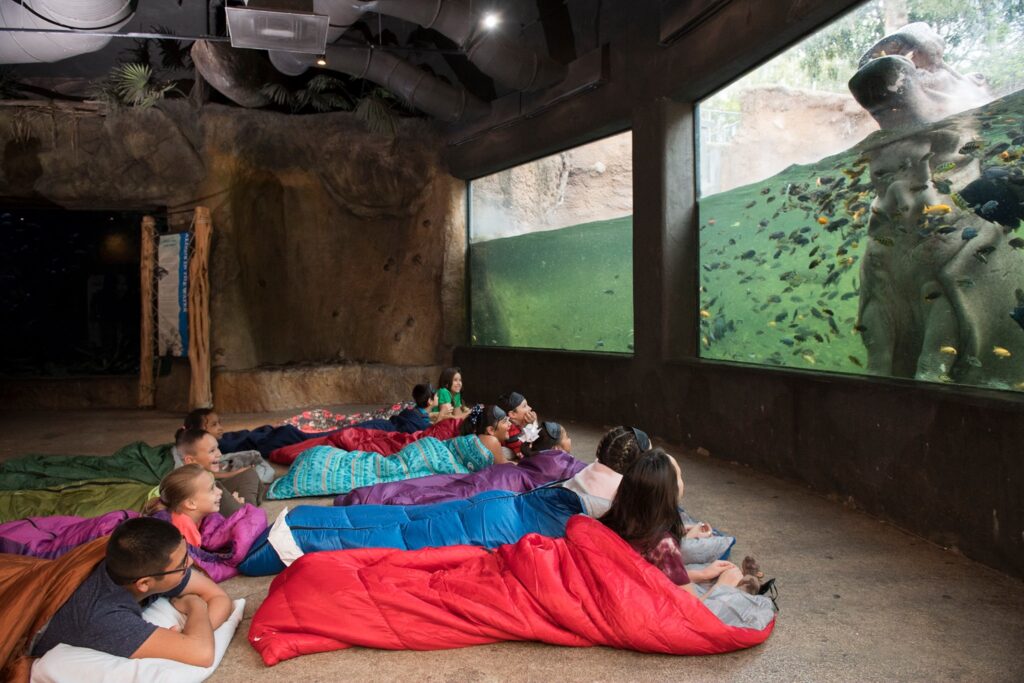 During this afternoon, you'll have the opportunity to tour the largest nature-based school in the country. Discover how with Rusty Keeler's designs the WSZS supports nature-based play, and how their programming was developed.
We'll also explore Challenge Hill, The Anarchy Zone, The Upper Yard, The Front Porch, The Cave Corner, The Sand Play Extravaganza, and The Epic Garden